CARE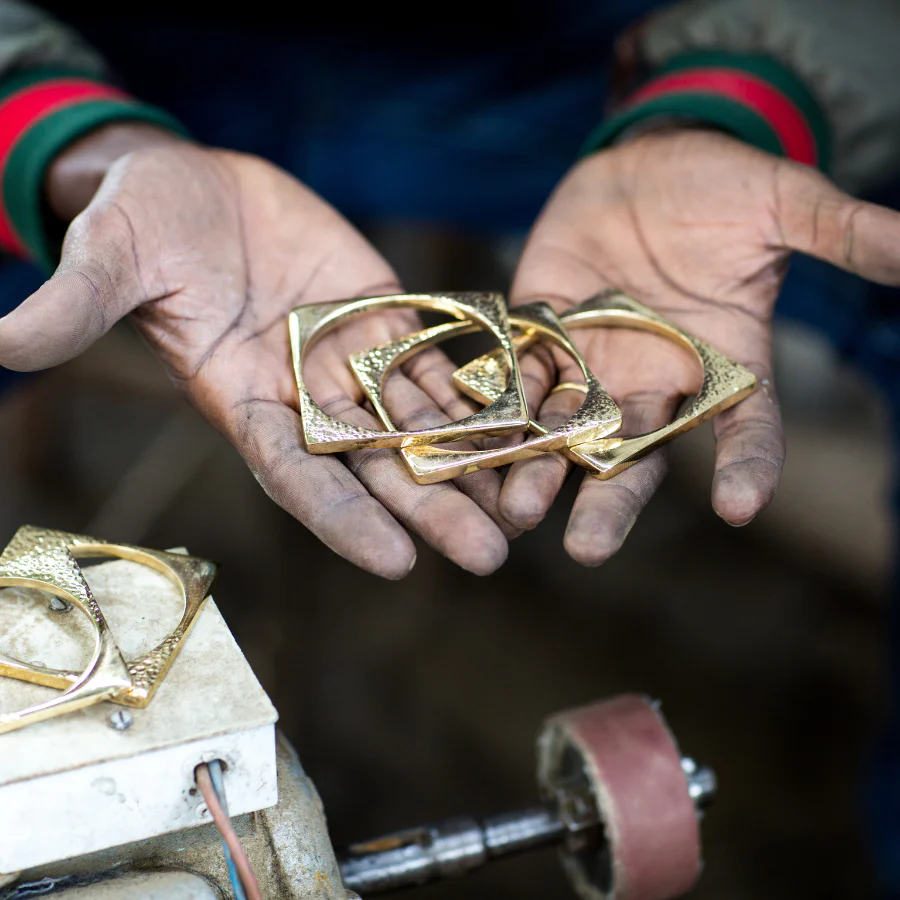 Art Wear Care Instructions
Your Art Wear piece is more than just an accessory; it's a handmade work of art that deserves special care to maintain its original beauty and luster. Crafted from high-quality materials sourced from various African countries,our accessories are made primarily from 100% brass, shell, and bone. Here's how to take care of these unique materials:
For Brass:
Use can use things you have at home:
Cleaning: Sprinkle some salt on the open side of a lemon half (not the skin) and rub it over the brass. You may also use a soft toothbrush to further rub the lemon juice into the jewelry item. Once this has been completed, rinse with warm water and dry the brass thoroughly. OR

Apply ketchup (yeap, ketchup) directly on brass with rag. Then, let it sit for 15 minutes to an hour, depending on how dull your brass is. After that, scrub the object with a soft cloth or brush and rinse it with clean water. Dry the brass thoroughly.

Polishing: Over time, brass may tarnish. If you enjoy a more rustic look, feel free to leave it as is. For a shiny finish, use the ingredients listed above and wipe with a soft rag until shiny.
Storage: Keep your brass items in a dry place, preferably in a cloth bag to avoid scratching and exposure to moisture.
For Shell:
Cleaning: Wipe gently with a soft, damp cloth to remove any dirt. Avoid submerging in water.
Polishing: You can polish shell carefully with a dab of mineral oil to bring out its natural luster.
Storage: Store your shell items separately to avoid scratching, in a cool, dry place.
For Bone:
Cleaning: Use a soft, dry cloth to wipe away any surface dirt. If more cleaning is needed, use a cloth dampened with warm water.
Polishing: Bone can be polished with a small amount of mineral oil to maintain its natural shine.
Storage: Keep bone items in a dry environment, and store them separately to prevent damage.
General Care Tips:
Avoid Direct Sunlight: To prevent discoloration, keep your Art Wear pieces out of prolonged direct sunlight.
Keep Away from Chemicals: Avoid contact with perfumes, lotions, and household cleaners.
Handle with Care: Remember that these are works of art, created through intricate craftsmanship. Treat them with the care they deserve.
By following these guidelines, you'll help to ensure that your Art Wear pieces remain as vibrant and exquisite as the day you acquired them. Enjoy the journey through African art and craftsmanship each time you adorn yourself with your Art Wear.